Welcome to Talent Talk with Robert Walters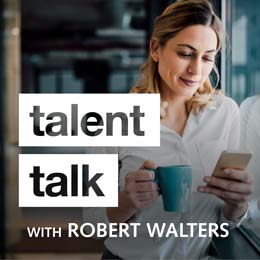 Talent Talk with Robert Walters is our global podcast series bringing together business leaders, recruitment experts and career growth specialists to share their insights and views on the latest hiring and career growth trends. So whether you're an industry leader, people manager or job seeker, our podcast series has something for you.
Subscribe to Talent Talk with Robert Walters to automatically receive the latest episodes, or listen to them now by clicking on the episodes below.
Subscribe and listen on-demand

In the Robert Walters South East Asia Leadership Series, we've invited leaders across industries and the region to share their leadership experiences, journeys and stories. Covering three key areas, this interview series will make you re-evaluate what it means to be a leader, and how we can pursue our life's dream – be it being
an entrepreneur, a key decision maker, or a person that makes an impact on the community. Access the three themes below.
Driving Innovation & Change
How are leaders across South East Asia spearheading innovation in their organisations and creating transformative changes? From digitalisation and technological disruptions to staying ahead of global trends, we speak with leaders to find out what goes into 'thinking successfully outside the box'.
Spotlight on Career Journeys
How do leaders get to where they are, and what are the lessons they have learnt through their careers? Hear from inspiring leaders across South East Asia, as they share their journeys – how they are proving themselves despite the odds and propelling themselves and teams even further forward.