Five hats your content marketing specialist needs to wear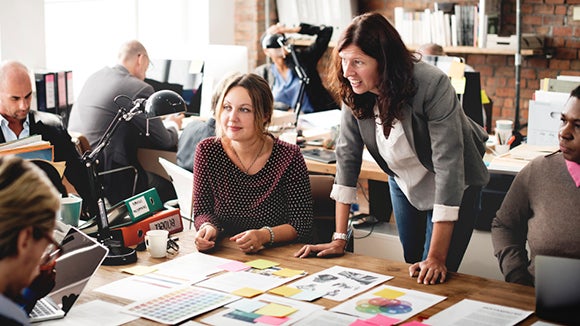 Looking for a content specialist but struggling to hire the right person? Many companies make the mistake of overly focusing on writing skills when looking for an in-house content marketer. A good content marketer should certainly be a strong writer but he or she needs to be able to do more than just write.
When hiring a content marketer, Sue Lin Lim, Manager of Sales & Marketing – Professional Services & Digital, Robert Walters advises hiring managers to check if candidates are able to wear the five hats below:
1. Content Authority
A good content marketer creates content that is relevant and interesting to both the company's audience and the business. This will require having a strong understanding of the company's audiences, knowing the latest trends within the industry and the business, and a good grasp of a variety of content formats, including long-form articles, social media copy, videos, newsletters, eDMs and more.
The ability to maximise the reach and potential of each content asset to its fullest – whether via multiple channels or repurposing into different formats – is also the mark of a good content marketer.
"A writing test can help you check for the above. Request a 400-600 word article based on a topic that is specific and relevant to your industry as this will reveal if a candidate can write well, research extensively and think logically," Sue Lin shares. "Also consider getting them to suggest accompanying assets, such as eDMs or social media posts, to see how flexible they are."
2. Digital Guru
Understanding content distribution channels is also very important for generating good content. Is the asset meant for social media, a website, or a brochure? These are very different contexts and a good content marketer is able to tailor each asset to the channel of distribution.  Most content today is going to be published digitally – which is why it is important for a content marketer to be familiar with eDMs, websites and the common social media channels.
"Many hiring managers think that familiarity with social media means that the candidates should be active on their own social media," says Sue Lin, "While that may help, business accounts can be quite different from personal accounts. Instead, test your candidates' knowledge by asking for recommendations on which channels to use to achieve a specific marketing objective, be it to promote a product, generate leads or to raise awareness of your company."
3. Business Driver
A content marketer also needs to be a partner to the business and all marketing efforts should be aligned to business objectives. This can be to generate more profits, improve the overall brand image, or be more socially conscious.
Sue Lin shares that identifying content specialists who possess strong business acumen can be challenging. "Ask candidates about what they think an in-house content specialist's role is," Sue Lin advises, "This will often give you a glimpse into whether they see themselves as a partner to the business. Hiring managers can also leverage the writing test and ask about the underlying thought-processes to see if the candidate had thought about the business objectives."
4. Whiz Strategist and Planner
To ensure all your content assets collectively work together to drive business objectives, there needs to be an underlying strategy. A good content marketer will look at the business objectives for the year, plan accordingly ahead of time and take steps to ensure that things go according to plan – all while remaining flexible.
This is where the timed component of your writing test is crucial. "In the interview after the writing test, ask the candidate about how he or she planned and spent their time on the different sections. This will often reveal whether the candidate is an organised person, or haphazardly getting through everything," says Sue Lin.
5. Analytics Enthusiast
In the data-driven world of today, good content marketers understand that leveraging data analytics can help make content more effective. Is the phrase "content marketing" going to appeal to more people in Malaysia than "content marketer"? A quick search on Google trends reveals the answer. From using tools such as Google trends and Adwords, to conducting A/B testing and more, a good content marketer doesn't just decide what's effective based on his or her intuition, but on statistics and metrics.
However, Sue Lin warns that analytics is a niche skill set on its own – one not many content marketers are likely to possess. She advises that hiring managers should instead look for candidates who are interested, open and willing to learn how to use analytics to improve their content and provide training to help candidates gain these skills.
High potential is key
While these are the hats a content marketer needs to wear, it is extremely challenging to find skilled talent who can don all five hats with style and efficacy. Hiring managers need to keep in mind that the best content marketers constantly seek learning opportunities, and the best way to provide these is to give them a role that they can grow into. Working with a trusted recruitment partner can help you more easily identify and secure high potential candidates who will grow and learn alongside your marketing team and business.
Hire the right content specialist for your team today. Contact Lim Sue Lin today at suelin.lim@robertwalters.com.my for an in-depth consultation.