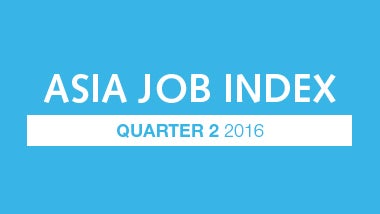 New research from our Asia Job Index Q2 2016 has revealed a 5% year-on-year dip in job advertisements in Malaysia.
However, Sally Raj, managing director of Robert Walters, noted this dip did not come as a surprise.
"As Malaysia is a commodity-driven economy, the contraction in the oil and gas industry has had a knock-on effect on other sectors. This resulted in companies scaling back expansion plans and candidates were more careful in making a move," she explained.
"On the other hand, while the weak Ringgit has led to low consumer sentiment, the lower cost of conducting business for multinational corporations could attract foreign investment and generate employment opportunities. Professionals with specialised skills, particularly in compliance, risk and strategy transformation, will remain sought after as companies continue to hire for critical roles." 
Key findings: 
As Malaysia remains a candidate-short market, companies sought to create more innovative remuneration and retention strategies to attract and retain talent. This led to a high demand for HR professionals and pushed job volumes up year-on-year.

The accounting and finance sector saw a 19% dip in job advertising as the shared services industry stabilised with minimal expansion.

The growth of e-commerce has driven demand for professionals across various disciplines, such as sales and marketing talent with digital experience, as well as IT candidates who can help companies enhance their IT systems and infrastructure. 
Click here to read the full Asia Job Index Q2 2016 report. 
Job growth in other Asian regions in Q2 2016: 
China: After a period of uncertainty around a slowing Chinese economy, particularly the decline in manufacturing, the market is gradually adjusting to the country's new growth mode with confidence returning to the recruitment market. 
Hong Kong: Hiring demands within the legal & compliance and human resources sectors remained strong. However, caution in the market caused delays in hiring decisions. 
Singapore: As Singapore continues to solidify its position as a regional hub for many international firms, demand for talent, especially those in the IT and marketing sectors, continues to rise in the country. 
Taiwan: Much of the hiring was replacement-based with companies focused on upskilling and recruiting candidates who can add value to the business. There were new headcount positions created in industries with sustained growth, such as IT and software.
Click here to read the full Asia Job Index Q2 2016 report. 
About the Asia Job Index 
The Robert Walters Asia Job Index tracks the number of job advertisements on a daily basis across the executive appointments sections of key newspapers and leading online job boards in China, Hong Kong, Malaysia, Singapore and Taiwan.
Released on a quarterly basis, the report provides an indicative summary of recruitment activity being experienced across major regional markets as well as key industry comparisons.
For further information or interview requests, please contact Rachel Chan on rachel-mk.chan@robertwalters.com.sg or +65 6228 6016.